About Us
Located in the beautiful city of Owen Sound, Mr. Khan's Gyro and Fish Corner is a quick casual restaurant that serves the best gyro, burritos, chicken dish, fish and chips, and more. Let Mr. Khan's Gyro and Fish Corner take you on a delicious experience with our dishes that are always rich in flavour. In order to deliver our customers the best dishes, we prepare your meal with only the highest quality ingredients. Whether you are joining us for a quick bite to eat or looking for a new restaurant to try out, our friendly customer service and amazing deals will leave you truly satisfied. Stop by today and try one of our amazing offers!
Not sure what to order for delivery tonight? We have an assortment of gyro combinations that are offered at an unbeatable price! Try out any of our gyros like the Chicken Gyro or the Mr. Khan's Special Platter which comes with gyro chicken, beef and served with rice, salad, and bread. For those that enjoy chicken, we also offer Chicken Wings with Fries or Deep-Fried Chicken with Fries - it is delicious! Of course, if you are yearning fish, you can try out any of our fish dishes which comes with a lightly battered fish, golden-fried until crispy and served with tartar sauce. Make sure to try out either the Cod, Haddock or Halibut to satisfy your cravings. Visit Mr. Khan's Gyro and Fish Corner today and enjoy one of our amazing offerings. If you feel like relaxing instead of cooking, you can order one of our tasty meals from the convenience of your house or office and have your meal delivered straight to your front door! To order online delivery or pickup, view our menu through SkipTheDishes and we will take care of the rest!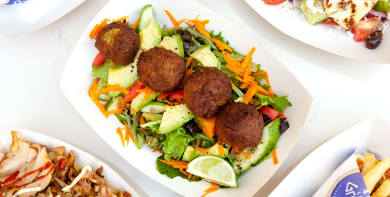 Reviews
Marlene
"thanks for the replacement of 2 cokes"
2022-11-22
Renee
"hot and VERY yummy"
2022-10-31
Emily
"Unfortunately they forgot my pop"
2022-10-14
Marlene
"The size of the fish was awesome ( big not small ) ........ keep up with the good job and you will have my business for life, thanks"
2022-10-01
Marlene
"Was awesome fish and chips tonight....... you got my business that's for sure....... keep up the good work and thanks"
2022-09-23
Menu
Contact Us
Find Us
132 9th St E, Owen Sound, ON N4K 1N5, Canada, Owen Sound, N4K 1N5
Opening Hours
Monday
12:00 PM - 8:00 PM
Tuesday
12:00 PM - 8:00 PM
Wednesday
12:00 PM - 8:00 PM
Thursday
12:00 PM - 8:00 PM
Friday
12:00 PM - 8:00 PM
Saturday
12:00 PM - 8:00 PM
Delivery times may vary